Knowing how to choose beautiful fine art photography as wall art for your home is part gut-instinct, part learning. Ultimately, the art you choose for your own home has to speak to you and you alone and while you may be a bit unsure of where to begin let us help you learn how fine art photography can work exquisitely with your interior space. These tips from interior designers and gallery experts, will be invaluable.

The accessibility of photography seems to make it a medium for everyone. From influencers documenting their lifestyle choices to commercial advertisements, there are images everywhere we look, but don't let the flood of photos in the field fool you.

Fine Art Photography is a rising star in the exclusive world of Art Collection and is the definitive choice of designers, collectors, corporations and staging experts alike. When guests enter your home for the first time or the thousandth time, having a well placed and visually stunning piece photographic artwork provides instant impact. A fine art photograph will enhance your space with color, luxury, and personality. Choosing to purchase the work of a real artist, rather than mass-marketed prints, means you're directly supporting the artist's journey and it gives you the peace of mind in knowing that you will receive a gallery quality piece of artwork that will last for generations to come.
Limited-edition photographs ensure that your purchase will be one of only a few masterworks produced by the photographer. These exclusive editions will bring individuality and rare beauty to your home as well as having real value.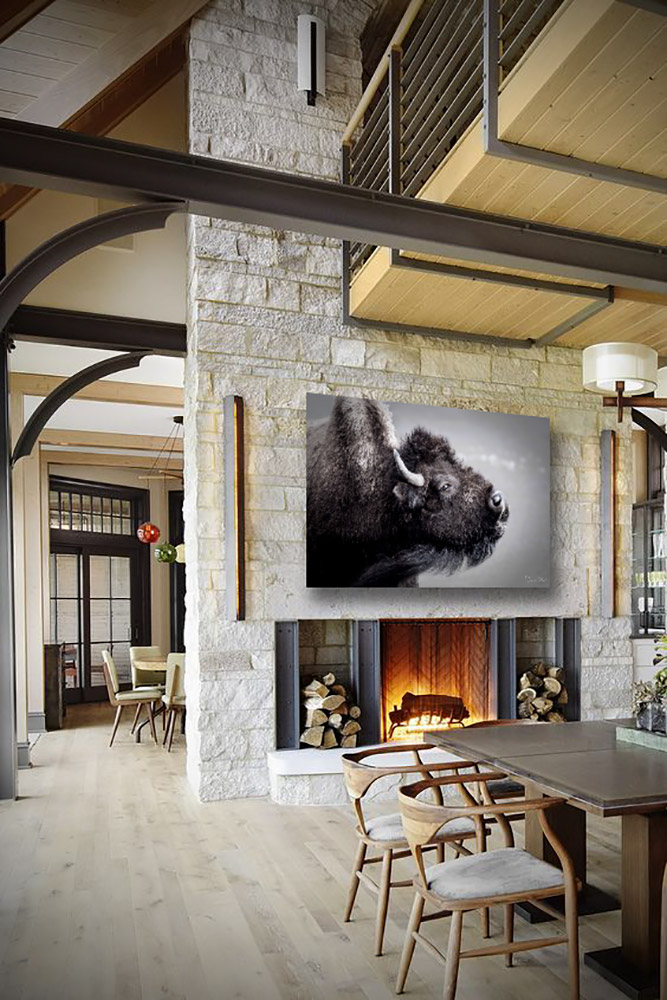 Art is the most powerful tool in any room, and sets the tone for everything else. So think about the type of photographs you'd like right from the beginning. I find it works badly if it's used as an afterthought as it doesn't just sing in the same way. Designers feel that people get intimidated when buying art and can get a bit stuck and don't know how to make choices. It's best to head that off at the beginning, by integrating it from day one and then through every review of the design process you'll be looking at everything in the context of the art. I believe that until the art is hung at the end, a space just doesn't feel finished.
Starting with an artwork is almost like cheating a little bit, because it gives you an instant focal point and color palette. A large piece can anchor the color palette for much of a room. The wall shades should reference the photo without mimicking it.

Starting a design with an artwork can produce creative interiors because you're really forced to think outside the box.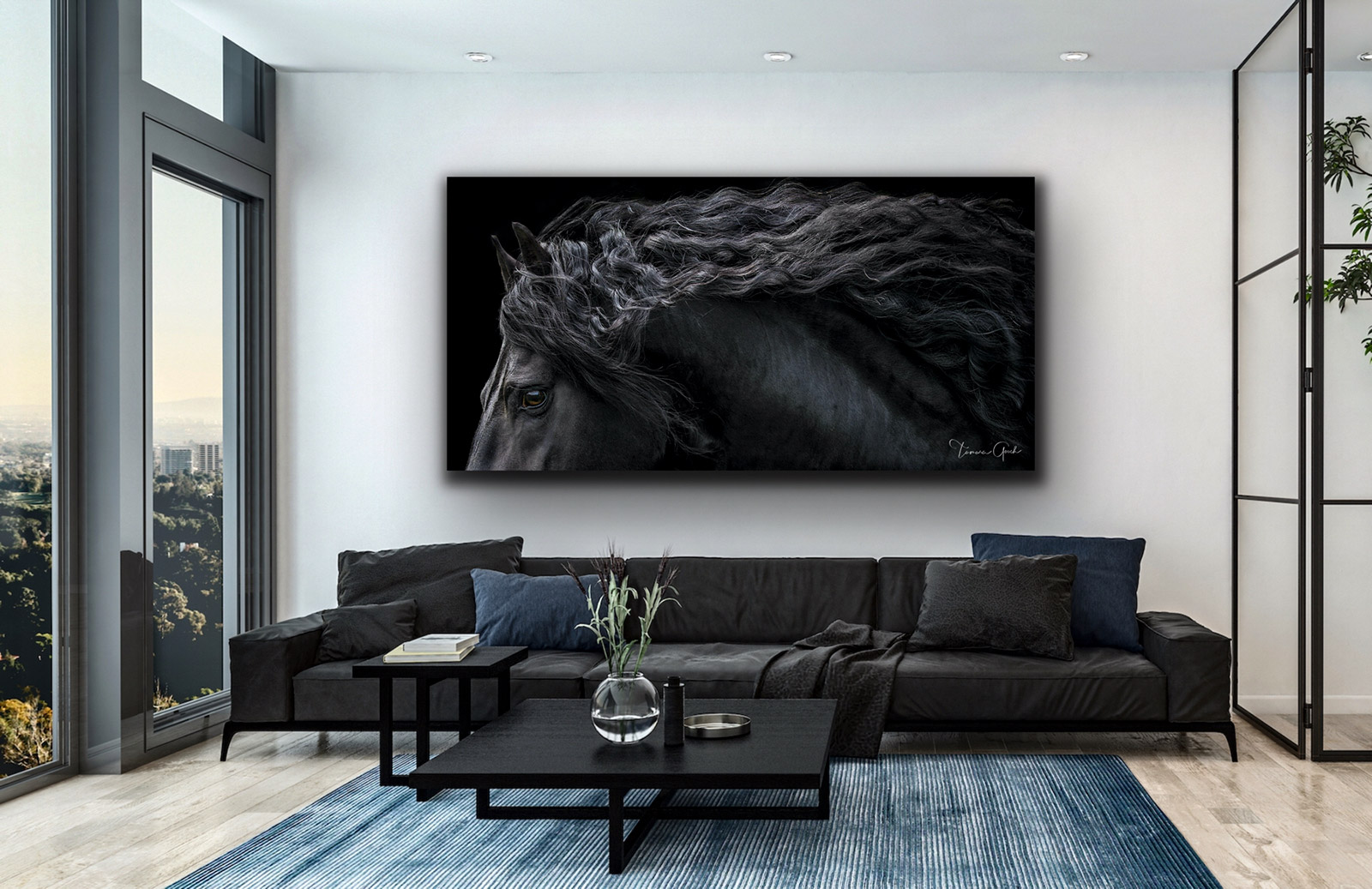 For many designers we found that the main starting point needs to be quite dynamic, and not too flat. That isn't to say that it necessarily has to be vibrant and bold, there just needs to be an attention grabber. Quieter images are better layered in later once you've found the main event.

The artwork can be an inspiration for color, but even more than that, mood. For example a coastal or beachy photograph would sit well in a kitchen, or another large daytime space. Whereas something more intriguing or challenging might work better in a space which you're going to spend evenings in. So it's placing the piece in the right room to suit the mood and then expanding on the mood from that.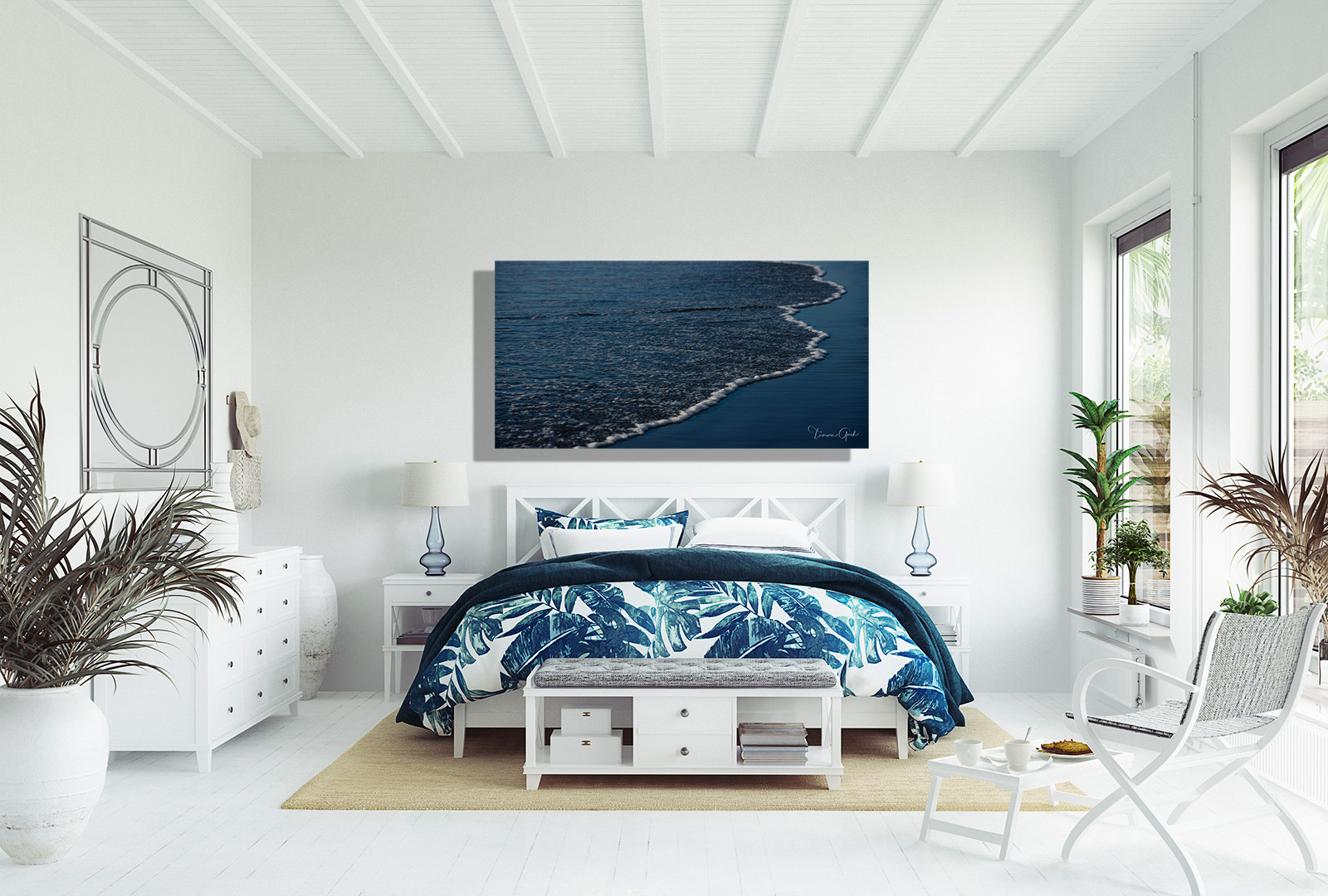 No matter the design concept or color pallet, when choosing a work of art: just fall in love with it. A work of art needs to speak to you, to move you, to make you dream, to inspire you every day – you need to feel it. Art should be an extension of your personality, as should an interior. It should bring joy – I really believe that living with art makes people happier.
When choosing art to suit a particular space in your home think about the architectural features of the room you are buying for, from ceiling height to the house's color scheme and lighting.

For instance, it is quite common for buyers to display the a large format photograph in the living room or great room. Since the birth of the modern home, great rooms are where the family gets together and where guests are entertained, making them the best places to showcase the richness and beauty of one's favorite piece of fine art photography.

For the bedroom, more intimate works are advisable, such as pieces that have a special connection with the couple or the individual sleeping there, perhaps a memory from an unforgettable trip to hawaii, or a gift for a special occasion.