Limited Edition Fine Art Print Styles and Frames
Here you will find a detailed guide on the various prints styles I offer for my limited edition fine art photography prints. Whether you are a first time art buyer or a seasoned collector, this page will give you all the details you will need to make this important buying decision and feel confident that is right for you. No matter what print medium you choose you will receive the very best the industry has to offer with all my limited edition fine art prints. All choices are museum/gallery quality with the full archival longevity you expect in a true piece of art.




To view samples of the available standard frames click here. Custom framing is available for those wanting something other than what is shown.
---
Lumachrome TruLife® Acrylic Prints - Truly the worlds best.
Lumachrome TruLife Acrylic Prints offer a superlative, luxurious display that no other fine art print presentation can match. The Lumachrome print is unrivaled by any other acrylic print medium. What sets the Lumachrome TruLife Acrylic apart from the rest? TruLife Acrylic reacts to direct light by providing a three-dimensional glow, similar to being back-lit, that allows the sharp details and colors of the image to shine through without distraction.
This museum quality print presentation is face-mounted with the worlds best 1/8" TruLife® Acrylic for a clean and modern look that is ready to hang upon delivery. The artwork is created on a silver halide photographic polyester base which was chosen for its optical clarity, color rendition and longevity. The fine art prints are incapsulated between a crystal clear acrylic base layer and gallery quality TruLife acrylic glass. The Lumachrome TruLife is crystal clear, non-glare and abrasion resistant. This expertly crafted work of art is thoroughly isolated form all elemental damage.
Even with our protection we don't recommend hanging artwork in prolonged direct sunlight.
---
ChromaLux Dye Sublimation Fine Art Metal Prints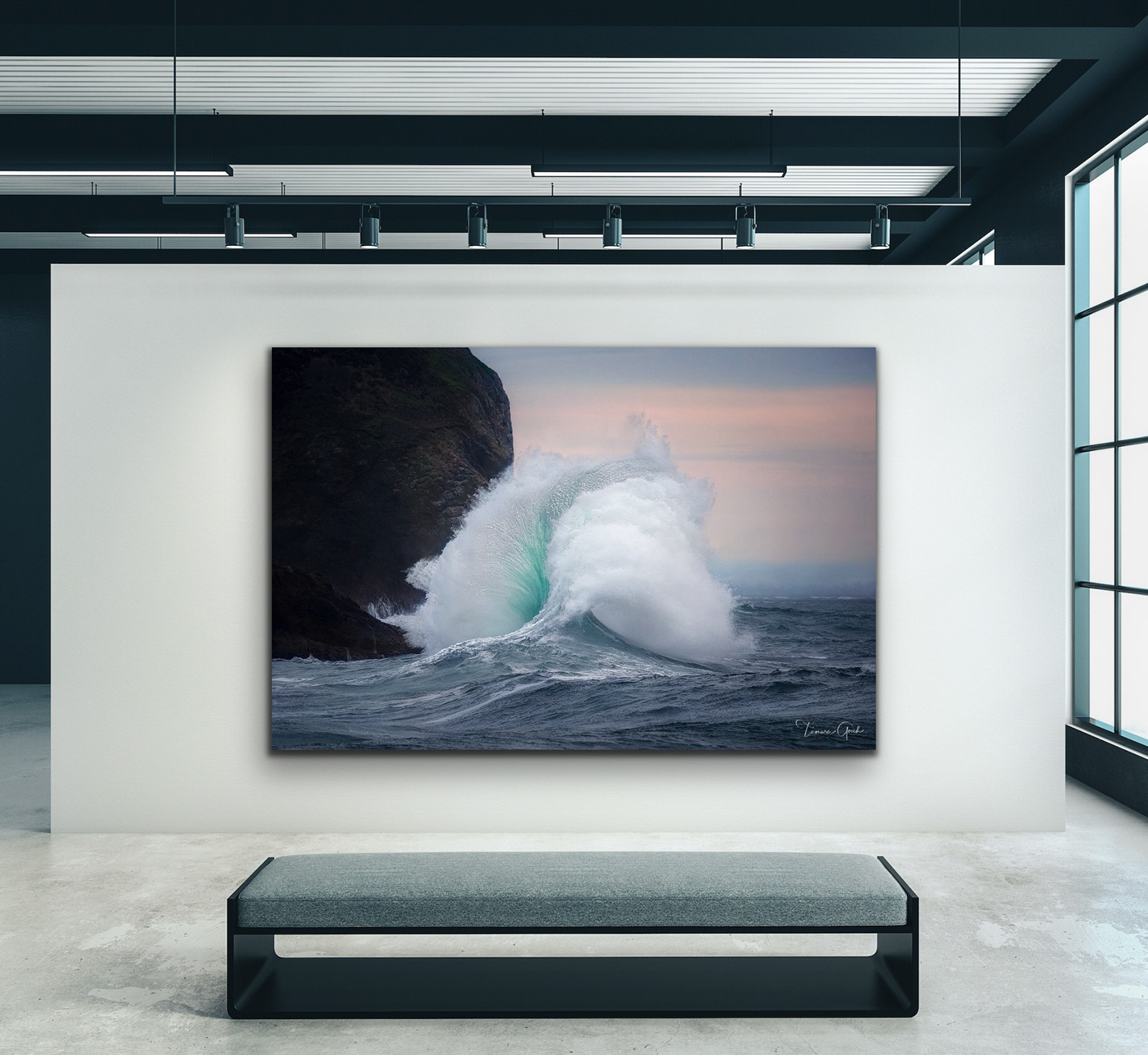 ChromaLuxe is one of the newest art mediums for Metal/Aluminum prints. The process will preserve your photos for generations (50+ years) by sublimating (infusing) dyes directly into specially coated aluminum sheets. Once the magic is done, you're left with results that are truly vibrant and luminescent with unsurpassed detail and resolution. They are truly breathtaking.
All ChromaLuxe aluminum photo panels are coated with a custom formulated multi-layer polymer finish which provides a durable foundation (scratch, fade, fire, and water resistant) for visually stunning images.

The overall depth and quality of the images are not only extraordinary to look at, but the light-weight durability of this product also remains unmatched by other competing aluminum products.
Metal prints are the perfect medium for any home or workplace. Large fine art prints set the atmosphere, and make a statement. The anti-microbial surface makes it the premier choice for the medical industry, conference rooms or lobbies.
ChromaLuxe metal prints can be cleaned with any all-purpose cleaner and wiped with a cloth. Easy cleaning allows for your museum-quality artwork to retain its shine, hassle-free.

Even with UV protection we don't recommend hanging artwork in prolonged direct sunlight.
---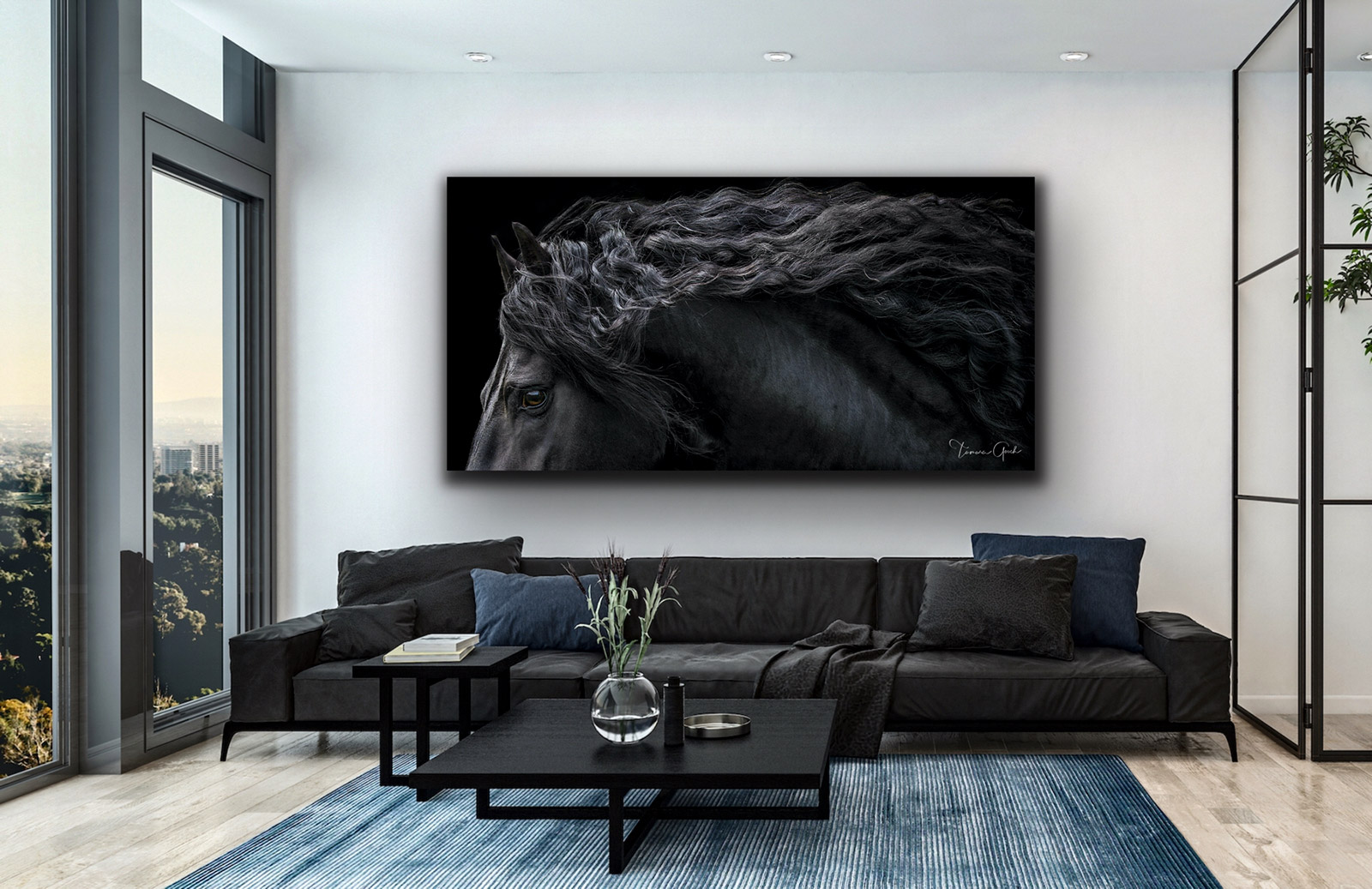 Gallery Quality FloatPlaqs


FloatPlaqs give your art dimension to appear as if it is floating off the wall. FloatPlaqs are quickly becoming a favorite for fine art galleries world-wide. Each photograph is mounted on an acid-free 3/8" thick eco-friendly wood surface finished with a beveled edge, and given a 3/4" deep backing to create a floating effect.
FloatPlaqs are made from recycled, eco-friendly wood, coated with an acid-free moisture resistant barrier. The french cleat hanging system is made out of eco-friendly non-coated wood. FloatPlaqs come with a French cleat hanging system.

Hanging Instructions: Take the beveled short block of wood and press it against the wall with the bevel going downward towards the wall. Set a level under the cleat hanger. With the cleat level, screw the first Walldog Screw through the cleat into the wall. With the cleat still level screw the rest of the Walldog Screws through the cleat into the wall. Make sure the Walldog Screws drive tightly into the wall. Giving no separation from the wall and the cleat. Now you can place the FloatPlaq on top of the cleat hanger on the wall setting it in place. The FloatPlaq can be moved left and right to the desired location. If the FloatPlaq seems off level simple put a small piece of tissue paper on the beveled area of the cleat hanger. This will raise the FloatPlaq up leveling it out.
Care and Cleaning: FloatPlaqs are produced with the highest quality standards in preservation and protection, tailored to illuminate your artwork's color and luster throughout its life cycle.

To maintain your product's longevity, it is not recommended to display artwork in prolonged, direct sunlight, or store in environments over 150 degrees Fahrenheit.
Ammonia-free glass cleaner and a clean cloth are recommended for the general cleaning of a FloatPlaq.
For best results, … spray glass cleaner on a clean, soft cloth (prevent over-spraying and streaking on the surface), and wipe-down a plaque with gentle, circular motions.
Please do not use ammonia or acetone-based cleaning products. These chemicals dramatically reduce the longevity and durability of protective finishes.
Even with UV protection we don't recommend hanging artwork in prolonged direct sunlight.
---
Museum Quality Fine Art Paper Prints
With all fine art paper prints either FujiFlex Chrystal Archive, Hahnemuhle Photo Rag 308 or Hahnemuhle Bamboo papers will be used. Each paper is chosen to best enhance and showcase each individual limited edition print for impressive print quality ensuring your artwork has outstanding expression and soul.
Hahnemühle's "green" fine art photography papers continue to grow. Hahnemühle only uses paper pulp that comes from sustainable and FSC- or PEFC wood plantations as primary fibers.
All Hahnemühle papers meet the high requirements of ISO standard 16245 for ageing resistance of paper and extreme light fastness. In combination with museum conditions, highly lightfast and acid free artist materials, photographic artwork will last for hundreds of years, without loss of color.
As early as 1965, Hahnemühle was the first paper manufacturer to produce exclusively vegan artists' papers and does not use animal glues or other animal substrates in its papers or manufacturing.
Energy used for manufacturing comes exclusively from 100% renewable sources. Hahnemühle covers its entire electricity requirements through wind, water and solar energy.