Florida Friesian and Iberian Horse Photography Workshop
March 26th - March 30th 2021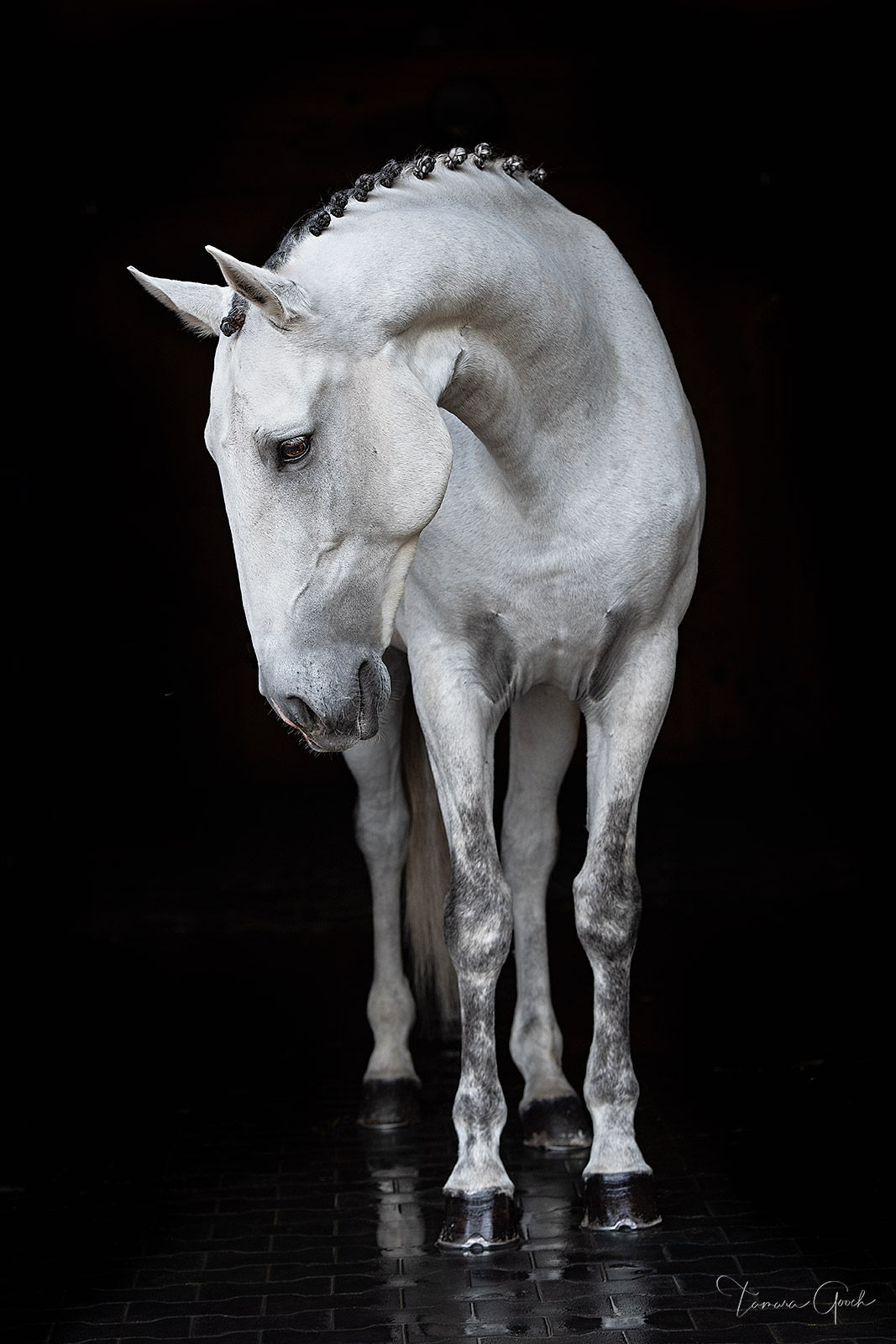 Get ready to be amazed. Firery horses, beautiful settings and magical moments are yours to be had.
Our host facility located near Tallahassee Florida features wonderful Friesians, Andalusians and Warlanders. We will capture their extraordinary movement and amazing spirit and spectacular baroque bodies. Few breeds can compare. You will have 5 days to think, shoot, learn, and experiment while immersing yourself in your photography.
The goal of this workshop is to learn and grow as photographers as I push each of you past your existing boundaries and comfort zones. There is no set agenda as each participant will bring a different skill set to the workshop. You will learn from me, your fellow photographers and your own experiences.


The workshop begins at sunrise on March 26th. Please plan on arriving the evening of March 25th. Lodging is not included the night of the 25th. Those flying should fly into Tallahassee International Airport, TLH. The workshop finishes March 30th. Departing flights should be planned for March 31st.
During our mid-afternoon breaks I will offer post processing for those interested. I can help edit images and show you photoshop methods I use, as well as offer critique of images taken during the workshop and previously shot images. But I try to keep it more about shooting and seeing and less about technology.

What you need to bring:
DSLR Camera, back up camera (if possible) and lenses. I recommend a 70-200 or 80-400 and a wide angle, such as the 24-120 and any prime favorites you may have. A more detailed list will be sent to attendees closer to the date of the workshop. Laptop is recommended and plenty of memory cards and extra batteries.

Cost of the workshop is $3400.
that includes lodging and instruction. A $1700. non-refundable deposit will hold your spot and the balance is due 60 days prior to the workshop. There is a $350. single supplement for those wanting a private room. Workshop deposits can be paid by debit or credit card via PayPal below. Fees apply. If you prefer to mail a check, please contact me
to get my mailing address.
As always I recommend
"trip insurance"
to all of my workshop participants.
I will be happy to share the names of some insurance providers for those interested.
Terms and Conditions

Covid-19 possible precautions: Proof of vaccination or a negative 72 hour Covid test may be required by all participants if still recommended by the CDC at the beginning of March.

Itineraries: are intended as examples only. Actual itineraries may vary depending upon weather, horses, models, contract service providers, logistical decisions and forces beyond my control. Participants must be prepared to be flexible; schedules may vary depending on conditions.
Reservations: To reserve your place on any of my workshops you may use the PayPal link at the bottom of each workshop description.(Fees apply). If you prefer to mail a check please contact me for my mailing address. Some workshops fill early so I suggest booking as early as possible.
Grace Period: I offer a 48-hour grace period on new registrations. If you have second thoughts about participating in your workshop within 48 hours of your registration, I will refund your payment, less a $60 processing fee.
Deposits: Your non-refundable deposit is required to secure your place on any workshop, with the remaining balance due 90 days prior to the start date. (See Insurance section) All monies once received are non-refundable (This is because many arrangements and payments are made prior to the operation of all workshops, regardless of the number of attendees). If you have paid the total amount for your trip and you have to cancel at any time, you will not be entitled to a refund. I do my best to reschedule individuals into a future workshop that must be taken within one year. Final payments are due 90 days prior to the workshop start date.
Insurance: We strongly recommend trip cancellation insurance. Life happens, workshops don't fill, snow storms shut down airports, people get sick. Be prepard. In addition to cancellation insurance some may want to consider medical insurance or medical evacuation insurance for international workshops, as some personal medical insurance policies do not cover your expenses while travelling in a abroad. You can also purchase "Cancel for Any Reason Coverage", which expands the list of reasons for your canceling to an infinite list, from a sudden work or family obligation to a simple change of mind.
Luggage: Tamara Gooch Photography request that workshop participants limit their luggage to the equivalent of one suitcase, one computer bag, one camera bag and tripod. All personal luggage is the responsibility of the owner so please keep the weight to a limit you can handle and be aware of airline weight limitations.
Responsibility: Tamara Gooch Photography does not assume responsibility for injury, accident, damage, loss, delay or irregularity which may occur via defect of transportation or any other cause. Tamara Gooch Photography reserves the right to substitute hotels, and other previously outlined arrangements if necessary.
Payment of tour fees by workshop participants constitutes their acceptance of all conditions contained herein including but not limited to injury, death or other liability incurred during a trip.